AFFORDABLE

PRICES

FRIENDLY

& TIDY

WORK

GUARANTEED

LATEST

TECHNOLOGY

AFFORDABLE WOOD FLOOR RESTORATION IN GREENWICH
For centuries, one building feature has endured for its beauty, durability and ease of maintenance..
The natural wooden floor.​
When looked after, they can add class and value to all kinds of properties: from homes, offices and shops to museums, schools, galleries, bars and restaurants.
So make sure yours are performing at a high level. If they are looking tired, scratched or more seriously damaged, it's time to call upon the specialists.
Floor Sanding Greenwich SE10 are your choice for floor repair and restoration.
From any age and condition and of whatever composition - hardwood boards or parquet blocks – your floors will receive the complete restoration service:
Repair and replacement of damaged timber; removing old paint and sealant; staining the bare wood for a change of colour (such as the modern soft washed look of grey or Scandinavian white).
We finish off with a fresh layer of sealant: hard wax, natural oil or lacquer.
And all with minimum disruption and mess. The spread of dust is no longer an issue - as modern sanding is virtually dust free. And any closure will be brief with flexible working - at weekends or even overnight - to fit around your domestic or business schedule.
So call us today for your free assessment. You'll get the best advice from our highly qualified team members - who have sanded hundreds of floors over the past twenty years.
Floor Sanding Greenwich - for your splendid new floor.
The other splendours of Greenwich
Aside from its star attractions, the borough has several other buildings of note. St Alphege's is one of Nicholas Hawksmoor's London churches. Though gutted in 1941, it has been well restored, as befits the resting place of General Wolfe. Some work survives from that great wood carver, Grinling Gibbons.
Around Blackheath, apart from the large Georgian houses, the Ranger's House is a redbrick villa of 1700. Morden College comprises a set of almshouses for decayed merchants (who predated the concept of limited liability). Its chapel of 1684 has an unspoilt interior with box pews, a pulpit and sounding board.
Further south, Eltham Palace has one of the most splendid Art Deco interiors in the country. Built in 1933 for the Courtaulds, the house incorporates the remains of Henry V111's earlier palace, most notably the Great Hall with its magnificent hammerbeam roof.
LATEST NEWS, RECOMMENDED ARTICLES & TIPS
How to get the best out of your drum sander
The drum sander is the quintessential piece of equipment that you'll need when you're sanding and finishing floors. This is the machine that does all the heavy lifting, stripping the old finish off your floorboards and taking them back to the raw wood ready for oiling, waxing or a polyurethane finish. But how do you get the best out of this piece of machinery and produce professional quality floor sanding results?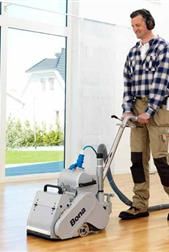 Hire dust free floor sanding equipment

No, this won't eliminate every speck of dust but it will remove enough from the environment that clean up is much easier. Dust free sanding equipment is also considerably healthier for the operative as wood dust can be a health hazard. Empty the dust bag regularly to keep the area you're working in as dust free as possible.

Don't be afraid of the machine

A drum sander can be a heavy piece of equipment but it's the weight that does the job. If you don't feel confident, practice on some scrap wood before tackling your floor. If you really don't think you'll make a good job of it, hire a professional.

Keep it moving

Never start the machine when it's in contact with the floorboards, instead tilt it back before powering on and then gently lower so the sanding drum is in contact with the floor. Now you need to keep moving, but let the weight of the machine do the work for you and move slowly and methodically following the grain of the floorboards. Keep your passes short and simple, and tilt the machine back on its wheels when you come to turn and make another pass.

Get the grits right

Not only do you need to get the grit sequence right so that each pass removes the scratches left by the previous one, but you also need to ensure that the sandpaper is properly installed. If not it can leave permanent swirl marks that ruin the overall finish. Feed the sandpaper around the drum and then check that it's properly taut and correctly positioned before you tighten the retaining screws. Always check the abrasive and change it when it becomes worn and your newly sanded floor will be smooth and even, ready for finishing.